The Power Of Perfect Teeth: Discover What Dentures Can Do For You
Your Smile Says a Lot More Than You Might Think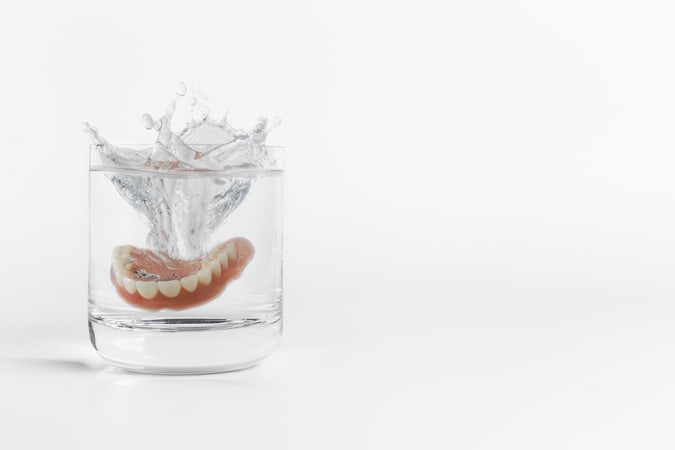 Start feeling like yourself again.
When you lose your teeth, you lose a part of yourself. Not only is tooth-loss a cosmetic issue, but it's a medical one, too. Fortunately, there's an easy way to restore your oral health and your self-confidence: dentures.
Feel confident in your choice.
Dentures have come a long way. Gone are the days of rattling false teeth. Today's dentures are custom-measured and designed for the best possible fit and feel. A set of dentures can replace all of your missing teeth at once—it's as simple as that. And best of all, it's usually covered by most major insurance plans.
Make up for lost time.
With your new dentures, you'll be able to enjoy all the things you've been missing. Like your favorite foods that you haven't been able to eat. You won't have to worry about whether a menu will have something soft enough for you to order—you can eat whatever you like, whenever you like. Dentures can also improve any speech problems related to tooth-loss, help protect any of your remaining teeth from excess wear and give your face a fuller appearance. Bottom line: they'll make you feel completely like yourself again.
Arm yourself with the facts.
So, why choose dentures over another oral procedure? It's simple. Dentures are often the quickest, least expensive solution to tooth-loss. Unlike dental implants, they don't require any form of surgery, and they're perfect if you happen to be a teeth-grinder, a smoker or suffer from any jawbone-related issues.
Make your dentures last longer.
With the proper care, your dentures can last a long time. Typically, they'll last anywhere from five to ten years. Talk to your dentist about specific things you can do to care for your set of dentures, but use the guidelines below as best practices.
Every day, you'll need to remove your dentures for proper brushing and care. Once removed, it's easy to brush your dentures and ensure that they sparkle from every angle. Before bed, get a glass of water and place it somewhere that's easy to access. Store your dentures inside the glass of water to keep them clean and ready at a moment's notice. Finally, protect your dentures and extend their lifespan by making sure they don't fall on any hard surfaces that could cause them to shatter. These simple steps will help ensure that you can enjoy years of a perfect smile.